Professionals
---
Our placement teams have tons of experience. They specialise in installing all types of glazing, with an eye for detail and efficiency, and on schedule. Every project has its own challenges and needs, and our carefully assembled teams can respond to these perfectly.
Material
---
Each project requires specific materials. We have all the lifting and handling equipment to carry out any project. How big are we talking? We have at our disposal: 5 crane trucks up to 32 m high, 4 mobile spider cranes on legs and with crawler tracks, 1 manual hoist for projects at height, various glass suction devices up to 1200 kg, 16 vans and 5 trailers up to 3.5T.
Does your project still need something extra? Then we will quickly find a solution.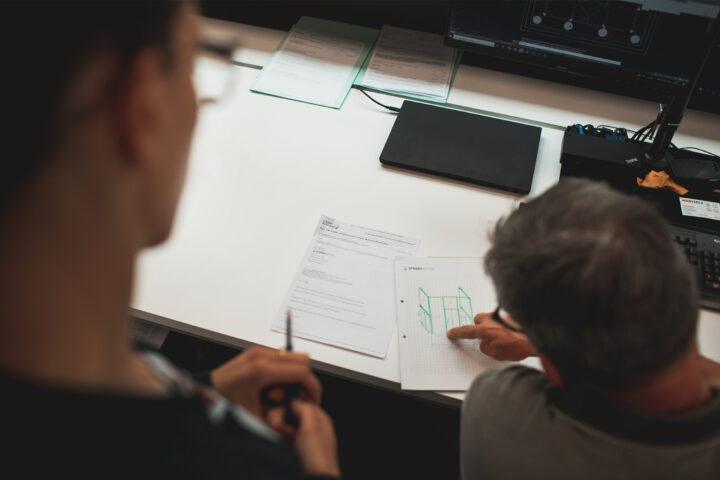 Total solution
---
Worrying about the progress of your glass project? Not needed when you engage SprimoInstall. We support you during every stage, from concept to execution. Including clear communication, personal support and a smile.
Total solutions
Careful installation
Experienced professionals
Personal support
Our way of working
Is how we make a difference in customer service with SprimoInstall.
Virginie Piret
Renovation
A lot is involved with a renovation project. It is important to find glazing that perfectly suits your specific situation and needs. Are you planning a complete renovation, or do you wish to replace the glass without major changes to your interior? You decide. Together, we look for the best option for you.
Glass balustrades
Looking for a modern accent to your interior? Then a glass balustrade is perfect for you. With balustrades installed with care and precision by our craftsmen, you will turn your balcony, terrace, indoor or outdoor staircase into a gem
Glasstool
Coming soon
Make an appointment with our experts.
Ready to bring your glass project to life? Or do you still have questions? Contact us and we will be happy to help you.
Project Socquet-Debroux
Customer : Alu2+
Architect : Grosemans-Heylen
Everything you need to know about subsidies
---
There are different government subsidies when it comes to glass. Among other things, you can apply for subsidies for certain renovation projects, when using certain types of glass or when replacing old glazing. So for which project can you apply for a subsidy? And what amount are you entitled to? That changes regularly. Contact our specialists for advice. They are always up to date with the latest changes.